List of Games for 3 Year Olds
This post contains affiliate links. If you make a purchase, I receive a small percentage at no extra cost to you. Thank you for your support!
If you are a parent or grandparent of a 3 year old, I hope you will find some fun games to play with your child in this list of games for 3 year olds.  When your child was 2, there weren't as many games available, but you saw that there were a lot of games available for 3 year olds!  More games available…now to decide which ones will be the most fun for your 3 year old.
Games for 3 Year Olds
Are there certain characters that your 3 year old likes better than others?  (Some games are character related.)  Feel free to leave a comment below to let me know which games you chose.
Melissa & Doug Spin-a-Slice Pizza Game
By:  Melissa & Doug
Age: 3+
Melissa & Doug Catch & Count Fishing Game
By:  Melissa & Doug
Age:  3+
Melissa & Doug Classic Card Game Set
By:  Melissa & Doug
Age:  3+
Melissa & Doug Fishing And Bug Catching Magnetic Game Bundle (Pack of 2)
By:  Melissa & Doug
Age:  3+
Candy Land The World of Sweets Game (Amazon Exclusive)
By:  Hasbro
Age:  3 – 6 years old
By:  Hasbro
Age:  3+
By:  Hasbro
Age:  3+
Marvel Spider-Man Web Warriors Chutes & Ladders Game
By:  Hasbro
Age:  3+
Educational Insights The Sneaky, Snacky Squirrel Game
By:  Educational Insights
Age:  3+
By:  Peaceable Kingdom
Age:  3 – 6
Peaceable Kingdom Stack Up! Award Winning Preschool Skills Builder Game
By:  Peaceable Kingdom
Age:  3+
Peaceable Kingdom Sunny Day Pond Award Winning Cooperative Game for Kids
By:  Peaceable Kingdom
Age:  3+
By:  Think Fun
Age:  3+
By:  Hasbro
Age:  3 – 6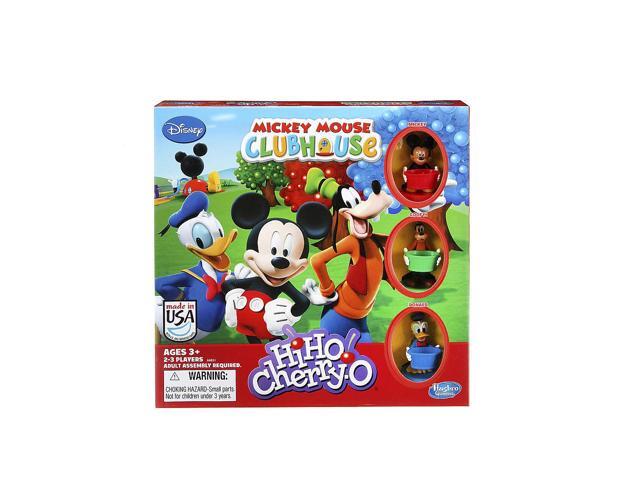 HiHo! Cherry-O Game Disney Mickey Mouse Clubhouse Edition
By:  Hasbro
Age:  3+
By:  Mattel
Age:  3 – 10
By:  Hasbro
Age:  3 +
Disney Junior Super Stretchy Game
By:  Wonder Forge
Age:  3+
Disney Frozen Surprise Slides! Game
By:  Wonder Forge
Age:  3+
Disney Princess Enchanted Cupcake Party Game
By:  Wonder Forge
Age: 3+
Disney Princess Pop-Up Magic Pop-Up Magic Castle Game
By:  Hasbro
Age:  3+
By:  Wonder Forge
Age:  3+
By:  Wonder Forge
Age:  3+
By:  Wonder Forge
Age:  3+
By:  Wonder Forge
Age:  3+
By:  Wonder Forge
Age: 3+
By:  Wonder Forge
Age:  3+
Disney Minnie Mouse Bowtique Memory Match Game
By:  Disney
Age:  3+

Shopping List Memory Game
By:  Orchard Toys
Age:  3 – 7
Thomas and Friends Memory Match Card Game
By:  Toysmith
Age:  3+
Let's Feed The Very Hungry Catepillar Game
By:  Briarpatch
Age:  3+
Five Little Monkeys Jumping on the Bed
By:  Briarpatch
Age:  3+
Blaze and the Monster Machines Monster Dome Challenge Game
By:  Briarpatch
Age:  3+
By:  Wonder Forge
Age:  3+
By:  Wonder Forge
Age:  3+
Mickey's Clubhouse Surprise Slides Board Game
By:  Wonder Forge
Age:  3+
By:  Wonder Forge
Age:  3+
By:  Alphabet Alley
Age:  3+
Hape – Early Explorer – Animals Wooden Memory Game
By:  Hape
Age:  3+
TINKERTOY – 100 Piece Essentials Value Set – Ages 3+ Preschool Education Toy
By:  Tinkertoy
Age:  3+
International Playthings Game Zone – Diggin' Doggies Board Game – Help the Dogs Find Their Bones! A Fun Racing, Counting & Color Recognition Game
By:  International Playthings
Age:  3+